708B is a tube headphone amplifier, is a tube preamplifier.(HIFI EXQUIS)
Sound Features Without noise, wide dynamic range, wide frequency response, low output impedance
Headphone Amplification is dynamic, high-resolution, treble clear and transparent, pleasant and pleasant; meddle frequency is full, rich texture; low-frequency powerful, flexible. Sound warm , with a high degree of reduction sound quality, quiet and witout background noise.(HIFI EXQUIS)
It is with excellent circuit, sophisticated components, it could sound quality and tone have a superior performance. The practical audition, 708B amp this dynamic, high analytical, treble clear, refreshing and pleasant; M-Frequency if full range, rich in voice; low F full and flexible. warm sound is Naiting , with a high degree of sound reduction, quiet background music.(HIFI EXQUIS)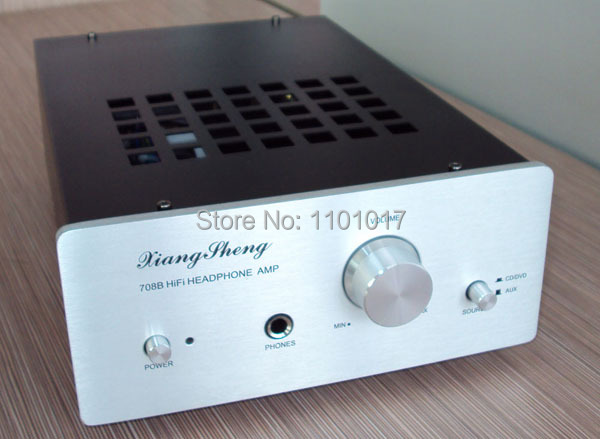 Parameters:
Output Tube : rectifier 6Z4x1, driver 6N11 x 2, 6N3 x1
Input Impedance : 100k ohms (HIFI EXQUIS co limited)
Preamp output impedance : 600 ohms ;
Headphone output impedance :32 – 600 ohms ( recommended use high impedance headphones )
Harmonic Distortion : less than 0.01%
Headphone amp output power :
500mW x2 (32 ohm) (HIFI EXQUIS co limited)
300mW x2 (300 ohm)
250mW x2 (600 ohm)
Frequency: 20Hz-30KHz +/-1db
Signal/Noise Ratio : 89dB
Input Jack : 2 group
Output Jack : 1 group
Size Dimension : Width 180mm x Height 80mm x Depth 270mm
Color: Silver or Black
Input Power : AC110V-240V switch power supply
net weight : 2.5kg (HIFI EXQUIS co limited)
Package weight : 3.2kg
Features:
Both a tube pre-amplifier also it is a tube headphone amp .
This nice amplifier refer to famous Japan Wada Shigeho's Style improved Electric Circuit, having excellent performance.
8mm thick aluminum alloy with silver plating process panels, advanced wrinkle paint process thin steel casing , a large metal knob.
Unique tube display large window , the background light with a warm orange-red.
Signal input and output using gold-plated RCA terminals in Taiwan , small contact resistance .
power line with three plug power socket , easy to upgrade the power cord.
Taiwan- WL volume control potentiometer or wizard ,
Germany WIMA red MKP grade polypropylene coupling capacitors
Taiwan produced no sense of metal film resistors,
Teflon silver plated signal lines.
R-shape high efficiency transformer, reducing the contact resistance,high efficiency, low magnetic leakage(HIFI EXQUIS co limited)
using high-pressure tube rectifier ,
two high-quality large pond filter capacitors .
The highly respected enthusiasts no negative feedback circuit form .
Switch input sourc(HIFI EXQUIS co limited)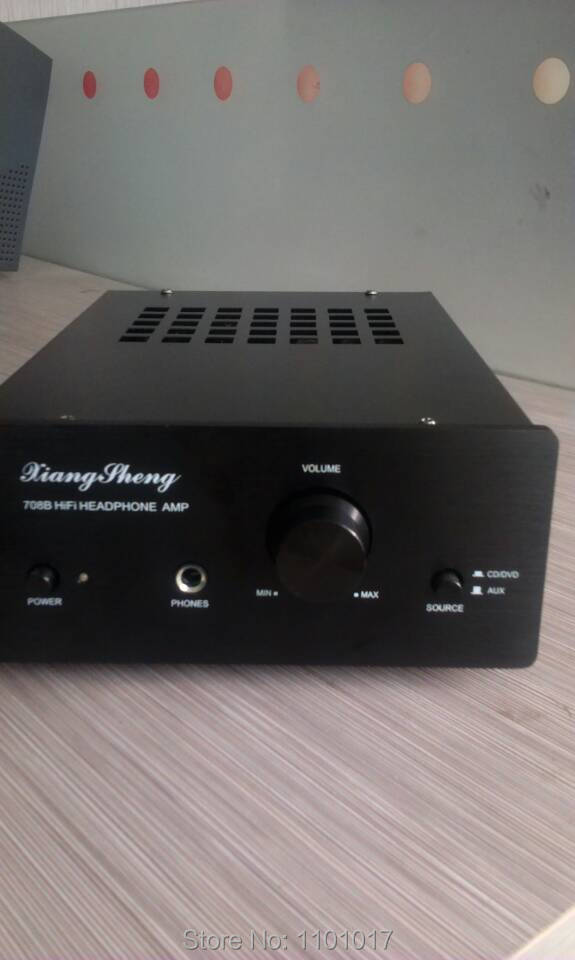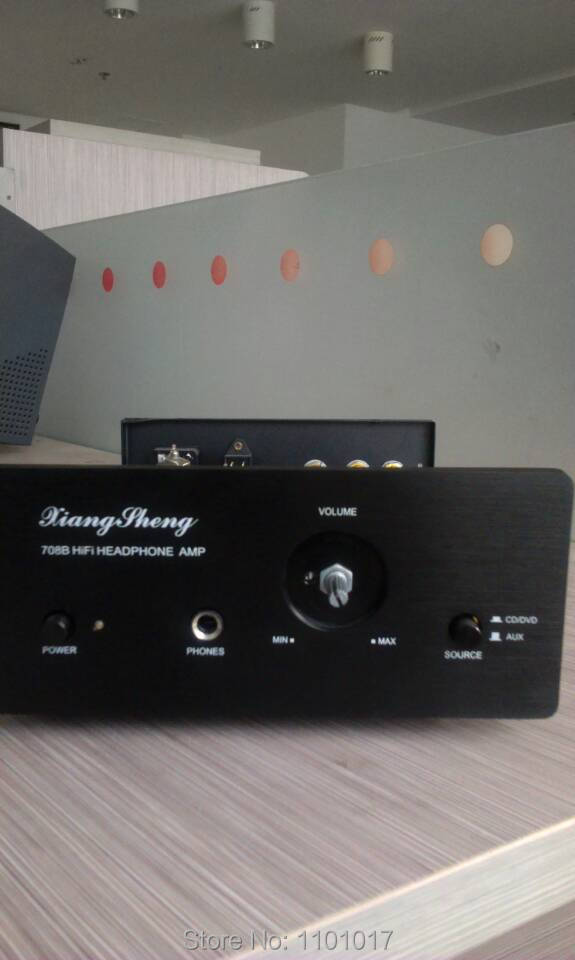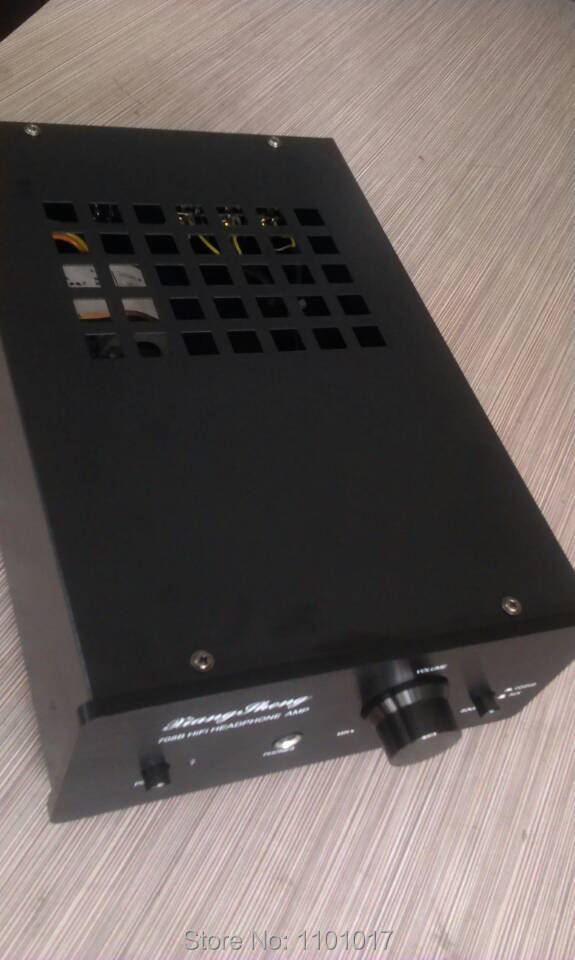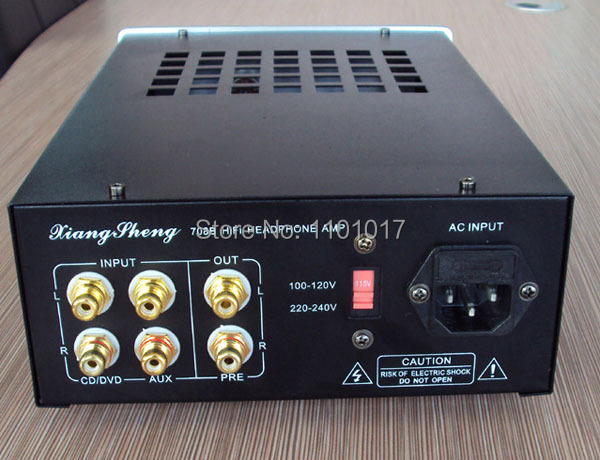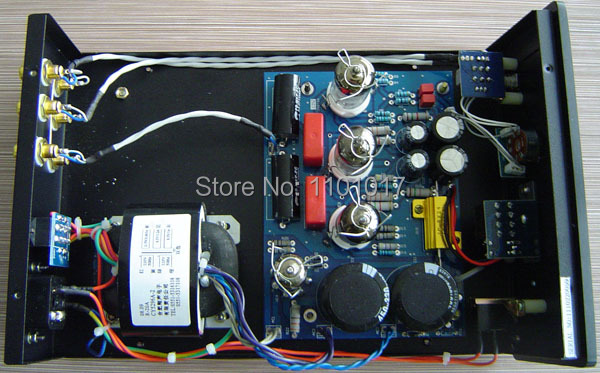 Tube Amplifier Precautions
1. Tube amp must connected with speakers before turning ON. Strictly prohibit send signals to amp without connected loads(speakers) or load short circuit when the switch is ON. (Hifi exquis 1101017)
2. Too high or too low power supply voltage does irreversible harm to the amp,preferably less than 5% of the specified voltage. If your mains voltage exceeds this value, often best to use with the AC power supply.
3. Temperature is higher when tube amps working, placing attention to ventilation, cooling. (Hifi exquis 1101017)
4. In the boot or just shut down for a period of time (within 30 minutes) Do not spill liquid on the tubes.
5. You should take about 100h time to operate the amp.RUN-IN to the amp gives it's best and stable sound.so during the first 100h use time the sound maybe is not the best,you can also use your own run-in method.
6. If you donot sure how to plug the tubes, please contact us before try it
Speakers connection
All tube amplifier used with stereo mode: L(left) and R(right) speakers.
Normally there are 6 speaker cable connectors: +8L, +4L, -0L, -0R, +4R, +8R
Example: +8L and -0L are for connecting with your Left 6-8ohms speaker
-0R, +4R is for connecting with your Right 4ohms speaker
Tube amplifier guaranty :
Tube amplifier Guarantee: 6 months for tubes sold with amplifier, 1 year for the amplifier and PSVANE tube
Conditions of Selling Article-1, Contact HIFI EXQUIS, Hello everybody, my name is FENG Lijun, I'm HIFI EXQUIS manager, Our team and me are always here , you are not purchasing via automate machie, but via us: real person, so thank u very much for choosing & trusting us. Our customer service is ready to help u, U can contact us any time by inside messager or by Email: contact AT hifi-exquis.com or hifi.exquis AT yahoo.com Article-2, Before Buying Please read cearfuly the below conditions, because validate the order by customer is equivalent to accept the selling conditions. Please read cearfuly the product page. If you don't sure, contact us before buying.(HIFI EXQUIS) Article-3, Shipping. In term of delivery: We need time to prepare the order and arrange the sent of products and dealing with china local shipping. After the International warehouse delivery, we will provide u a tracking number in 3~6 days for the international shipping. Shipping delay, please contact us for resolve this problem (HIFI EXQUIS) Article-4, Taxe & Duties: We are not responsible for any Taxe, Duties or Customs fees, These charges are the buyer's responsibility. In general we declare a lower value than real price. Any problem about the clerance process, Please contact us before contacting with customs.(HIFI EXQUIS) Article-5, Delivery. (Damaged, wrong product, sound is bad, no tracking information, package lost, apparence problem, shipping delay, etc) Any problem or dissatisfaction after received product, you must contact us in first before to give a negatif feedback or open a dispute. You can open dispute only when we can't give your a satisfied solution! Article-6. Feedback is extremely important. If you are satisfied, please leave 4-5 stars positive feedback. Else you must contact us to resolve the problem with us.(HIFI EXQUIS) Article-7, After Selling, Guarentee 1 year for all product, excepte some product have different guarenty time, please find detail in product page. We have 3 after selling service point: in china Shenzhen, in Europe France Toulouse, and Canada Montreal and in the future in Russia moscow , so easy to return your quarenty product (HIFI EXQUIS) Article-8, We have not responsability of any small update of inside of product if the changing is not give any impact for the product quality. and nor responsability if manufacture change or remove some print word or change or add some holes on chassis but the product is the same. Company Information HIFI EXQUIS is a High Fidelity e-commerce store, we offer the exquisite equipement of Hi-Fi system and with both good quality and service. All our equipement are configured to fit with different countries and electric norms, and guaranteed you a risk free purchase and 100% satisfied. We also commit ourselves the best quality / price of the product for you. Our store is property of <Shenzhen XinHuoBan trade Ltd> Registed in ShenZhen china, for product store and shipping service; We co-work with French company: <Neopote > Registed in France for Europe pre-sale and After-sales services Have a good shopping!