Tarot T960 Carbon Fiber 6-axle Foldable Hexacopter Frame Kit FPV TL960A
Detail:(Schematic diagram:)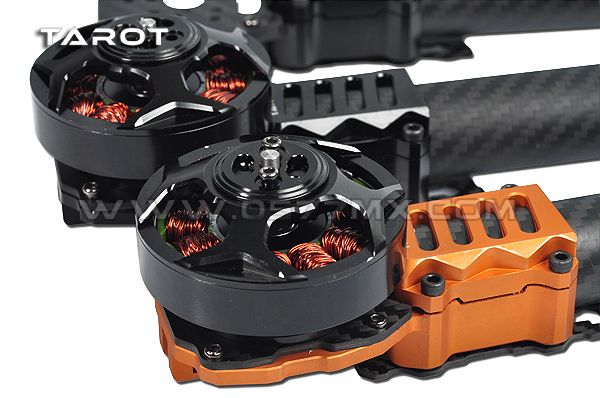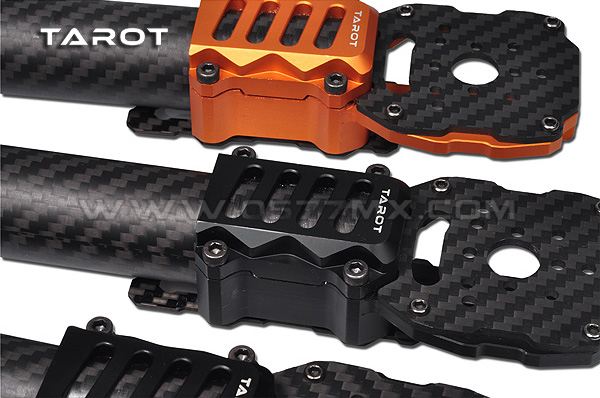 (This products do not included any electronic parts and Landing Skid,unassembly,just a frame kit)
– Japanese 3K carbon, CNC cutting
– Design standard is higher than most similar products of this range.
– Folding design, meet the needs of customers who have high demand on portability.
– Dual color motor mounts provide striking visual direction of the hexcopter mainframe.
Sample application:
Load capacity 3.5Kg, Canon 5D class camera with gimbal, flight time about 13 minutes.
Specifications:
TAROT T960 Foldable Hexcopter Frame Kit TL960A
Weight: 1050g
Arm diameter: 25mm
Rotor spacing: 960mm
Diameter of kit: 1000mm
Central plate dimension: 210 x 210 x 2mm
Motor mounting hole spacing: 16mm/ 19mm/ 25mm/ 27mm 3-point
* Hint: The standard kit does NOT come with landing skids, the manufacturer provides the landing skids as optional part and to be purchased separately.
Suggested setting (not included):
Propeller: 17 to 18 inch
ESC: 40A
Motor: 50 size
Battery: 6S 10000 to 15000mAh
Includes:
1x Tarot hexcopter kit
* Frame kit only, no electronics.
* Landing gear is NOT included, it is an optional part for this kit and to be purchased separate